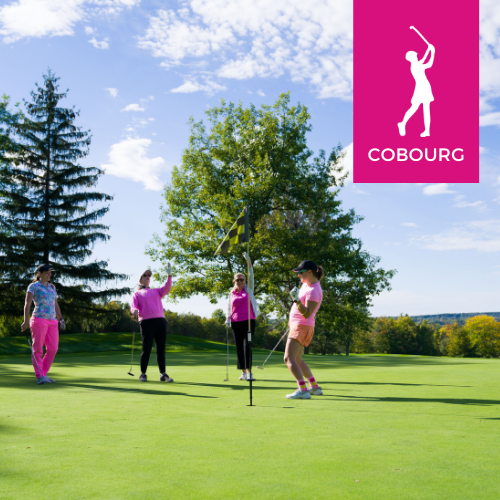 League: The Mill (Mon)
7 weeks (Monday - Evening)
---
Cobourg The Mill Golf Course
990 Ontario St, Cobourg, ON K9A 3C7
---
Details:
Be part of a fun, inclusive golf community for women!
7 weeks of 9 hole play from August 14 to October 2 (no play on Labour Day, September 4th, 2023)
Tee Time Ranges:
Monday (Evening) - Tee times RANGE between 4:00pm to 6:00pm
**Tee times may fluctuate based on the number of league members that sign up. Please check as this is a LIVE website and tee times will be updated periodically. (Tee times range updated on July 12, 2023). Also, please note tee times in September to October fluctuate due to changing daylight. As days become shorter, courses adjust schedules to ensure players have enough daylight to complete their rounds safely.
League Membership Includes:
7 weeks of play, all green fees are included

Pre-set tee times that are reserved for Iron Lady Golfers each week: Easy to sign up Tee Time bookings that are released and open 2 weeks in advance so you can sign up with a friend or sign up on your own and meet a new Iron Lady Golfer!

NEW! 2 tip nights

NEW! 2 social nights that include a free drink of your choice at the end of play and the opportunity to socialize with your Iron Lady League members

NEW! Member Only Access with Video Learning, Tips. etc.

NEW! Invitation and first access to Iron Lady Community Social Events (non-golf fun events)!

An Iron Lady Welcome Gift

First access to sign up for all Iron Lady Golf Travel Retreats

Each league has a captain that will help answer any questions you have and support you in the league
Subs and Guest Policy
Each Iron Lady Golfer "owns" their membership spot for the season. They are welcome to invite a guest to take their spot on weeks where they cannot attend. Each member is responsible for signing up their guest online on the tee sheet.
Iron Lady Golf Refund Policy
We hold your Iron Lady Golf spot just for you. We secure tee time for our leagues with partner golf courses in advance, and as such are obligated to honour the league memberships we've made. Please review all dates in the event page and ensure you can attend prior to booking. Iron Lady Golf does not offer refunds for individually missed or canceled dates made by the individual. However you are welcome to transfer it to another golfer.
Raincheck Policy
Everyone to show up and if the course is closed or golfers get in less then 6 holes and rain starts/gets worse then when they started they will get a rain check to play at their leisure another time.