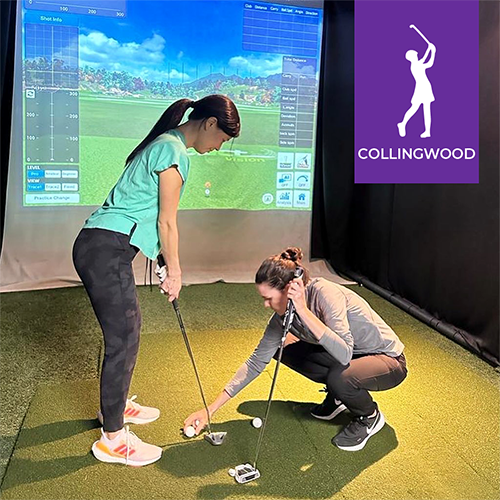 2 hours Group Clinic: Collingwood
Play, learn & connect! (Thurs | 5:30pm)
---
Collingwood The Golf Club - Collingwood (Simulator)
100 Pretty River Parkway South Unit 107, Collingwood, ON L9Y 5A4
---
Sorry, this product is no longer available for registration.
Details:
Learn, Play & Connect! (Golf, Tips & a Drink)
2 hours golf clinic (5:30pm to 7:30pm) includes:
Golf simulator fees
Rental Golf Clubs (if needed)
Golf Instruction fees
Golf technique & proper swing fundamentals
Golf drills & practice: Putting, Chipping, Pitching, Full swing, Getting more Power and more!
Golf focused stretches & exercises, including a warm up routine you can do each time before you play golf.
This is an all levels group lesson that will involve coaching, drills and practice that are great to get you more confident in your game!
Dates
January 26, 2023
March 2, 2023
March 23, 2023
April 13, 2023
April 27, 2023
5:30 pm arrive at The Golf Club
Meet your coach and grab a drink! Get a tour of all the putting drills we have set up and how to practice effectively. Warm up exercises - a routine you can do before you play each time!
5:45 - 6:30pm - "Chipping & Full Swing Practice"
This part of the session the simulator will be set to the "driving range". There will be 4 golfers per simulator. Golf coaches will rotate into each simulator where the golfers are playing providing tips to each player! *note if you are not taking your turn hitting, you are welcome to practice on the putting area*
6:30-7:30pm - "Playing Tips On Course"
For this part of the session simulators will be set up for a game. Golf coaches will rotate into each simulator where the golfers are playing providing on-course tips to each player!
Iron Lady Golf Refund Policy (Lesson): We hold your Iron Lady Golf spot just for you. We secure space for programming with partner golf courses and instructors in advance, and as our programs are non-refundable. Please review all dates in the event details page and ensure you can attend prior to booking. We do not offer refunds for individually missed or canceled dates/lessons made by the individual. However you are welcome to transfer it to another golfer. If there's a waitlist and we can fill your spot, we'll certainly do our best with advance notice.