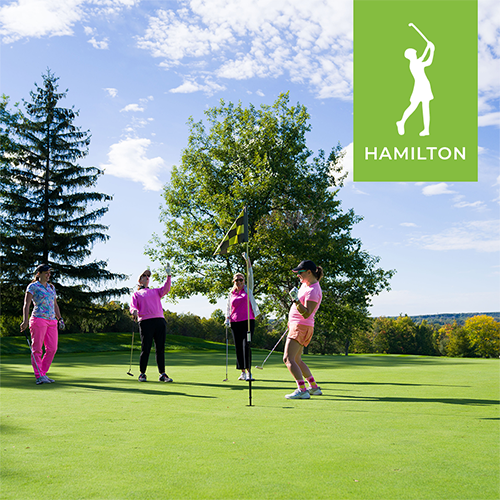 League: Century Pines (Wed)
PRICE DROP! ($131 off) in our Summer League (Wednesday - Evening)
---
Hamilton Century Pines Golf Club
592 Westover Rd, Troy, ON L0R 2B0
---
Sorry, this product is no longer available for registration.
Details:
PRICE DROP! $744 (Original Price $875)
Be part of a fun, inclusive golf community for women! 12 weeks of 9 hole play from May 15 to August 21 - No play on the following holiday weeks:
May 22 - Victoria Day - (No League Play May 21 to May 27, 2023)

July 1 - Canada Day - (No League Play July 2 to July 8, 2023)

August 7 - Civic Holiday - (No League Play Aug 6 to Aug 12, 2023)
Tee Time Ranges:
Wednesday (Evening) - Tee times RANGE between 4:30pm to 6:00pm
**Note: Tee times may fluctuate based on the number of league members that sign up. Please check as this is a LIVE website and tee times will be updated periodically. (Tee times range updated on Dec 9, 2022).
Mandatory Orientation Session - Week of May 8 to 14, 2023
Come learn, meet and connect with your captain and other fellow Iron Lady members & feel comfortable at the golf course! Tour the facilities, review basic rules, etiquette and how to navigate your way around! A chance to ask questions, meet your captain and other league members before the season starts! Enjoy a drink and toast a great aseason of play!
League Membership Includes:
12 weeks of play, all green fees

PLUS pull carts

are included

NEW! 4 In-Person Monthly Tip nights. 2 Tip Sessions (coach is stationed on one hole giving out tips as each group plays through) and 2 On Course learning sessions with a golf coach, each group will get to play 1-hole with a coach during league play.

NEW! Golf Canada Membership - each Iron Lady League Member will get a Golf Canada membership which gives you access to having a handicap, tracking scores, $2500 for damaged, lost or stolen equipment and discounts with other partners. The membership is a ($60 value)

NEW! An orientation night to learn, meet and connect with other Iron Lady Golf Members

NEW! 4 social nights that include a free drink at the end of play and the opportunity to socialize with your Iron Lady League members

Fun, light competition on course games throughout the season with an end of season prize & awards ceremony social

Pre-set tee times that are reserved for Iron Lady Golfers each week: Easy to sign up Tee Time bookings that are released and open 2 weeks in advance so you can sign up with a friend or sign up on your own and meet a new Iron Lady Golfer!

NEW! 8 Winter Learning Webinars with Golf, Nutrition, Breathwork, Equipment, Mental game, Fashion and Fitness experts (starting in January and goes until end of April)

NEW! Member Only Access with Video Learning, Tips. etc.

NEW! Invitation and first access to Iron Lady Community Social Events (non-golf fun events)! (ex) March 3rd will be an Iron Lady Ski Day at Osler Bluff Ski Club in Collingwood.

An Iron Lady Welcome Gift

First access to sign up for all Iron Lady Golf Travel Retreats

First access to sign up for the Iron Lady Open end of season tournament

Each league has a captain that will help answer any questions you have and support you in the league

More exciting things to come!
Subs and Guest Policy
Each Iron Lady Golfer "owns" their membership spot for the season. They are welcome to invite a guest to take their spot on weeks where they cannot attend. Each member is responsible for signing up their guest online on the tee sheet.
Iron Lady Golf Refund Policy
We hold your Iron Lady Golf spot just for you. We secure tee time for our leagues with partner golf courses in advance, and as such are obligated to honour the league memberships we've made. Please review all dates in the event page and ensure you can attend prior to booking. Iron Lady Golf does not offer refunds for individually missed or canceled dates made by the individual. However you are welcome to transfer it to another golfer.
Raincheck Policy
On the 9 hole course - rain checks may be given with 4 or fewer holes played.